GRATIS WEBINAR: Realistic Rendering med CINEMA 4D
Skrevet 8.1.2017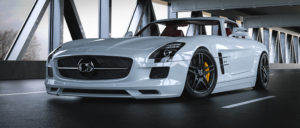 MAXON udsendte tidligere på året CINEMA 4D Release 18 og tilbyder nu webinar om realistisk rendering.
Deltag i dette gratis webinar med Dominik Dammelhart, som gennemgår advancerede renderingsteknikker som bringer dig nærmere på at kunne lave fotorealisme med forskellige renderingsengines.
En fantastisk bilscene benyttes til at vise fremgangsmåder:
•     Oprettelse af realistiske shaders fra scratch
•     Opsætning af forskellige realistiske lysforhold
•     Camera indstillinger
•     Endelige render indstillinger
•     Post work fora t opnå det bedste i din endeligeet rendering
Bemærk at webinaret er delt til  2 dage
Deltag i et af webinarerne en enkelt dag eller deltag i begge for at udbygge dine færdigheder mest muligt:
Første dag (Onsdag, den 25. januar 2017 15:00  – 17:15)
•     Octane (15:00 – 16:15)
•     Corona (16:15 – 17:15)
Registrer gratis her for første dag
Anden dag  (Torsdag, den 26. januar 2017 15:00 – 17:15 PM)
•     VrayforC4D (15:00 – 16:15)
•     Maxwell Render (16:15 – 17.15)
Registrer gratis her for anden dag
WHO IS CURSESTUDIO?
Dominik Dammelhart, a.k.a. CurseStudio, has been working in the CG industry as a 3D generalist for over 6 years.
Since 2010, he has created a lot of free tutorials for the Cinema 4D community and has worked on multiple
projects for different companies, including Lenovo, Siemens and more.
His work and tutorials have been featured almost everywhere on the web, including sites like 3dtotal, Evermotion and Motionserved, just to mention a few.